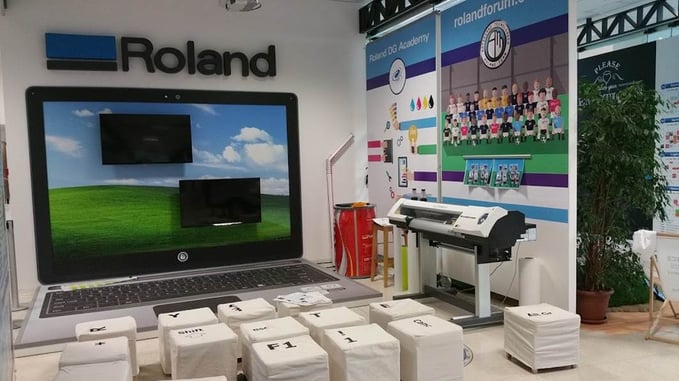 Traditional printing and in-store advertising are both changing rapidly. There are many new technologies and formats that challenge printers and advertisers out of their comfort zone to think about new ideas and innovations to be introduced to the market.
We asked Connection Manager Giovanni Re from Roland DG about large format printing and how these new technologies can help in-store advertising.
New advertising materials and formats
According to Re, the typical in-store advertising materials, such as cardboard displays and paper posters are gradually leaving more space for new advertising materials. These new materials include e.g. floor graphics and silhouettes in rigid die-cut PVC, working as a framework for products of various kinds and shapes.
Although many digital advertising formats are rising, Re still sees great potential in digital printing, also in the future. Smartphones, paired QR-codes and interactive communication, such as Augmented Reality applications, will be the new frontiers that can build the bridge between print and digital extension.
These new technologies also require knowledge and innovativeness from the printers and material manufacturers as well as from the advertisers. "They should have the knowledge of the whole panorama of different materials to be able to choose, case by case, which to use in order to have maximum effectiveness.", Re points out.
Future of large format printing
"Large format printing is gradually integrating aesthetic shape, and surfaces and communications are increasingly converging. What was called interior decoration is just one of the ways where we are seeing the creative mix of different worlds where printing is only one tool of extension of shape, beauty and use.", says Re.
Re also points out that the share of environmentally friendly, sustainable materials as well as inks is going to grow because of the ever growing care for the environment and requests from the market. "Recycling and reuse is another theme that, especially with new materials, allow you to build applications that respond to these requests.", Re continues.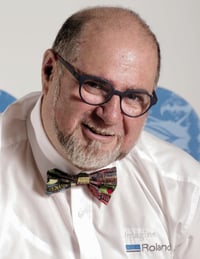 Giovanni Re, Roland DG