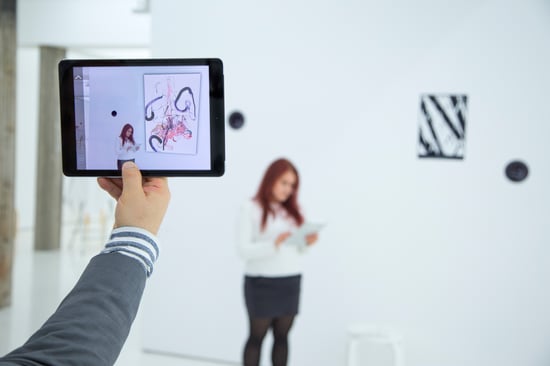 Increasing number of companies have moved their marketing from traditional print media to digital channels. However, the importance of printed products is still high, it has only changed its form. According to a recent Finnish research, the effectiveness of printed materials in the digital age has, in fact, even increased, and big investments on print have an impact on sales, as well.
In order to succeed, companies have to come up with new ways to connect traditional print media and digital channels effectively. One good example of this kind of connection is art gallery Helsinki Contemporary's ARTAP application. We asked Helsinki Contemporary's Communications Coordinator Heli Hakala how print and digital media can be connected to support each other in today's marketing.
ARTAP
"ARTAP is an Augmented Reality based application which allows you to view realistic looking artworks on your wall in actual size and colors on your tablet, as they would appear in real life.", says Hakala.
According to Hakala, the idea for the application was born, when they started to think about the possibility to create a digital dimension for a traditional art gallery. Gallery space is limited, and there is only one exhibition shown at a time. How to serve those clients who can't, for example, make it to the desired exhibition?
Apart from this, it can be difficult for those that have less previous experience to see how the artworks would appear on the walls of their own home. "It is often difficult to realize the actual size of the artwork in the large, white gallery space." says Hakala. On the other hand the application can also assist experienced art buyers, offering the opportunity to explore the sales gallery collection in more detail as well as obtain additional information to support the purchase of artworks. Digital technology also serves as an important channel to market the gallery artists to international gallerists and curators. Via ARTAP it is already possible to be in contact with the gallery, but at the time not possible to make direct purchases.
How to combine digital and print media?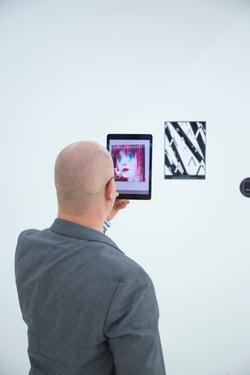 ARTAP app requires a "wall spot marker", which is placed on the wall to the desired spot. Select the desired artwork from the app and the artwork will appear in the place of the marker in realistic size. After this, artwork can be moved around and viewed from different angles on the screen of your smartphone or tablet. In addition to this "Live View" option the application also allows you to take a picture of your preferred view in the room and try different artworks in this picture.
What is essential to the functionality of the application is the wall spot marker which can be downloaded and printed from the gallery's website, pick up from the gallery, or it can also be mailed. Helsinki Contemporary wanted the material to be better quality than just a plain paper or a traditional sticker because it was going to be also a promotional item.
The most important thing was the convenience of the material: static sticker can be installed easily and moved from one place to another without leaving any residue on the wall. They had heard of Stafix earlier and ordered some test versions in order to test the materials in practice. The results were convincing, and they decided to select the static sticker, STAFIX®STATIC.
Static sticker can be installed easily on the wall and other surfaces several times without leaving any residue. Wall spot marker, printed on a static sticker, doesn't require tape or pins to attach to different surfaces. Therefore it is well suited for use on both, wallpaper and painted walls as well as other home surfaces.
Augmented Reality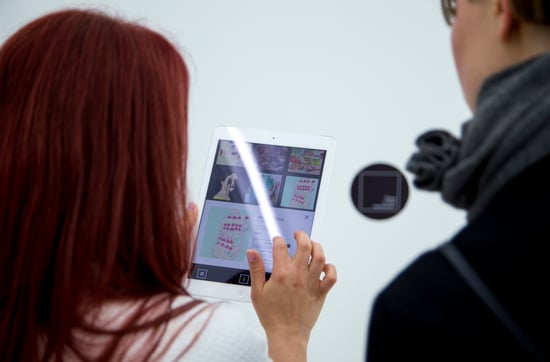 Augmented Reality brings a whole new dimension for, for example, product demonstrations, trainings, advertising and marketing. In addition to commercial purposes, Augmented Reality has also been used in construction and pharmaceutical industries among other things. There are also many other application areas and AR-technology will surely be utilized also in some other contexts in the future.
AR-technology makes it possible to gain something "more" than just a real and physical space. Augmented Reality combines effectively both, traditional print media (in this case the wall spot marker) as well as the digital dimension.
Want to know more?
Get to know ARTAP application or contact us for more information about the use of print materials in the digital era.