Every store is different from the other. Nonetheless, most of them can contain many of these items: shelves, windows, walls, fridges, freezers, boards, etc. You should feel confident in utilizing all the surfaces as a marketing tool, and what is better than to show an ad right next to the product? What refrains creatives to use these surfaces as a marketing board, is the fear of ruining them. Many stickers can leave ugly marks when removed, and often it takes time to clean the surfaces afterwards.

Luckily, you have a solution which is just what you need: Glue-free stickers. In fact, they adhere to different surfaces and leave no marks. You can utilize them wherever you want and the surfaces will be spotless afterwards, with no need to spend time and money in cleaning, fixing or replacing.
Windows
Every store has a window, whether it's facing towards a street or into a mall. This window is also the first point of eye contact able to communicate to the potential client. Therefore, you are in need to catch his/her attention. That's why many advertisers utilize window stickers to introduce clients to the product/service offered. What can hold them back is the fear to have materials that give the wrong opinion of the store, because with their opacity or poor quality they make the point of sale look not well taken care of.
Besides, many are afraid to leave ugly marks on the surfaces once the campaigns ends, or that it is too difficult and time consuming for the store staff to handle these stickers. With glue-free stickers, it will be very quick for the store staff to apply the ads and, once the campaign has ended, even quicker to remove them, with no need to clean the surfaces. This also enables you to have faster rotation in your campaign materials, without the need for professional installation.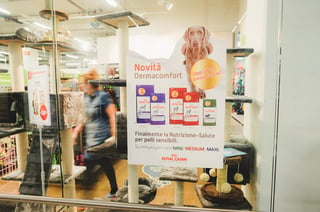 Screens / Sensitive surfaces
For those stores selling electronics, it is an issue to utilize tv or computer screens for advertising. Even some glue-free stickers may leave a grey area on the outel layer of the screen after removal. In general, any kind of these sensitive surfaces can be used for promotion if you use a glue-free, statically charged 100% polypropylene sticker, without any specific adhesion layer (e.g. such as STAFIX®STATIC). Thanks to its qualities, it adheres to any surface and you can be ensured no marks or residue will be left on them once you remove these stickers. This is often important with home appliances also, as the products on display are supposed to be sold to the comnsumer also. Thus it is vital to ensiure that the products have a new appearance still later on and free from residue.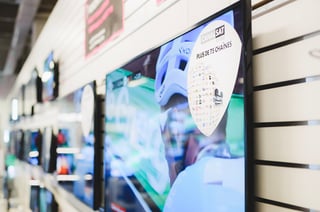 Walls / Shelves
For any surface in your store, statically charged stickers is the material you're looking for in case of short term advertising: It adheres to any surface and gives you no problem. If the surface is very smooth, and the desired adhesion is up to 12 months, then you can consider using also our silicone sticker material.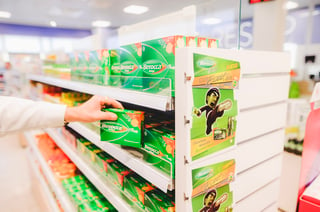 Fridges / Freezers
If you need to promote frozen food, beverages or ice creams, then freezers and fridges are ideal for your promotion. The main challenge is not to ruin the surface of these appliances by using a conventional glue, which reacts to the cold temperatures and eventually hardens over time. It will be time-consuming to remove it, the sticker will be completely destroyed and there is the risk that you won't have a clean surface afterwards. With statically charged and products based on silicone adhesion, you can relax because you will not have any bad surprises. The ad will be displayed for the exact time of the campaign and, once removed, the appliance will look like as good as new. These materials work well also in sub-zero temperatures and thus can be placed even inside the freezers, facing outwards, when printed mirror-wise on the clear material.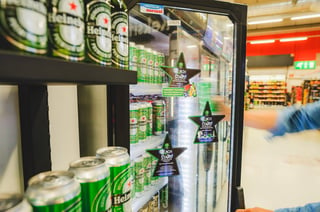 Are you wondering what STAFIX® products would suit better for a specific surface? Check our Surface Compatibility Table and find out!